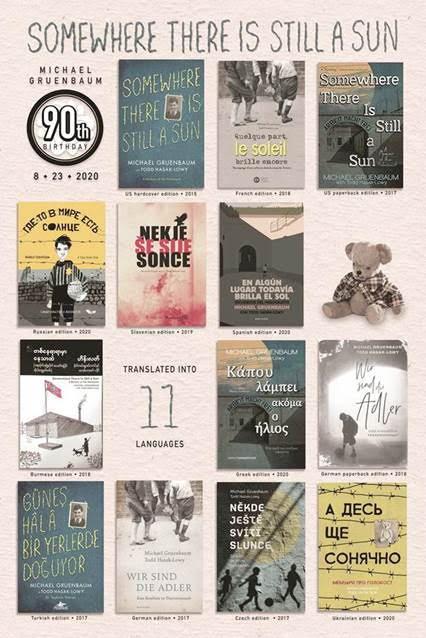 Book & Talk: "Somewhere There Is Still a Sun"
The event is held in English. Free entrance. You will receive the Zoom link after registration and one day prior to the event.
To commemorate the beginning of the Second World War, we are inviting you to join a talk about book "Somewhere There Is Still a Sun", the memoirs of a teenager's survival of the Holocaust in Czechoslovakia during WWII. The author, Michael Gruenbaum, now 92 years old and one of the last remaining Holocaust survivors, will read a synopsis from his book, first describing the conditions for the Czech Jews subsequent to the Nazi's occupation of Czechoslovakia starting March 15, 1939 and later his life in the Czech concentration camp "Terezin".where he spent 2.5 years until he was liberated on May 8 1945 including how his mother miraculously saved them from being sent to the gas chambers in Auschwitz.
About the Author:
Michael Gruenbaum was born in 1930 in Prague, Czechoslovakia. In 1942, he was sent to the concentration camp Theresienstadt, or Terezin, with his mother and sister, and remained there until the end of the war. He emigrated to the United States in 1950, graduated from MIT and Yale, served two years in the Army, and worked for the Boston Redevelopment Authority and Mass. Dept. of Public Works, before cofounding a consulting firm. He was married for fifty years to the late Thelma Gruenbaum, author with Michael of Nesarim: Child Survivors of Terezin and a children's book, "Tell Me About Beethoven" He has three sons and four grandchildren. https://michaelgruenbaum.com/
The event is organized by Paideia - The European Institute for Jewish Studies in Sweden, Paideia folkhögskola, Czech Centre in Stockholm and the Jewish Community in Stockholm
Arrangörer
Paideia - The European Institute for Jewish Studies in Sweden, Paideia folkhögskola, Czech Centre in Stockholm and the Jewish Community of Stockholm